I can be your hero
Your right
ah zui
. I always dream of being a cool super hero and super heroes don't come in small packages. Heroes work very hard to achieve what normal humans cannot. Here I shall follow your footstep and pay tribute to some of our own local heroes.
Lim Goh Tong is Gambit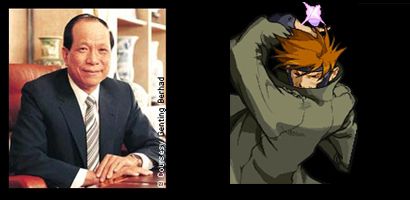 Royal Flush! Meet the man who boost Malaysia's economy with our own money.
Datuk Azalina Othman is Wonder Woman
Who else better to be our Youth and Sports Minister? She is a 5 DAN black belt who will not hesitate to kick you in the balls... literally.
Jallaludin Hassan is The Riddler
Jawapan mu tamat? Jawapan terakhir? Jawapannya ..... Selepas ini.
Lillian Too is Jean Grey
Today's Feng Shui tips: Put a 3 legged frog in your living room near the front door for money luck. You can get it from my outlet for only RM299.90 and you will recieve a free crystal ball to hang at your window ... make sure it faces directly at the sunlight.
See ya!~